Developed from over 25 years of vehicle lift manufacturing, Boston's B461 and B441 are fine examples of leading 4 poster technology and claimed to be the most advanced lifts available in Europe. Robust, attractive and designed to meet the demands of future MoT legislation. Both models have platform recesses into which their hydraulic or pneumatic play detectors can be installed or retrofitted at anytime.
With platform lengths varying from 4.65M to 6.10M, all with broad 630mm width, and reinforced substructure, they are the obvious choice for vehicle testing, ATL bays, commercial workshops and new LWB work. Operable from any post for ease of use and time saving, there are also 24V outlet sockets at each corner for inspection lamps, and an airline socket on the crossbeam.
Built in Europe exclusively for Boston, with software and controls manufactured by Boston in the UK. Membrane keypads with LED indications, PLC controlled and reprogrammable for future software upgrades. Adjustable pre-selected working height, stainless steel radius turning plates on nylon glides and rubberised hand control/torch unit are further features.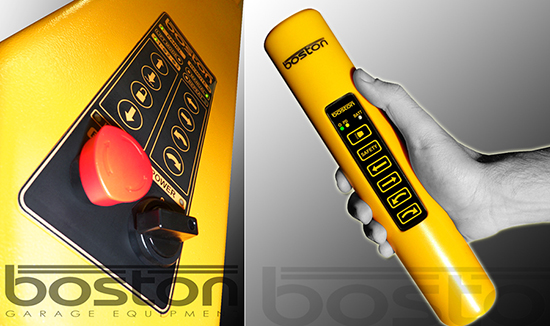 Technology driven, Boston embraces the continuing new opportunities to advance across their range of high quality products. Every detail of the new 4 post lifts has been carefully evaluated and designed to produce a sturdy, reliable product which is sure to impress.